Rajasthan means 'Land of the Kings' in English. It is a princely state that is popular for its arts, cultures, palaces, gardens, lakes, and the great Indian Desert. It is the most popular Indian State amidst travelers and Tourists. The state of Rajasthan is blessed with architectural marvels.The megalithic structures in marble and stones, walls in frescoes, fortified palaces, decorated camels, tigers in their natural habitat, are in plenty in the state of Rajasthan.
Jaipur which is the capital of Rajasthan is also popular for being one of the stop in the Golden Triangle travel itinerary. The festivals in Rajasthan have their own color and people complement it with their warmth.
In this blog we have listed some of the best places to visit in Rajasthan, India.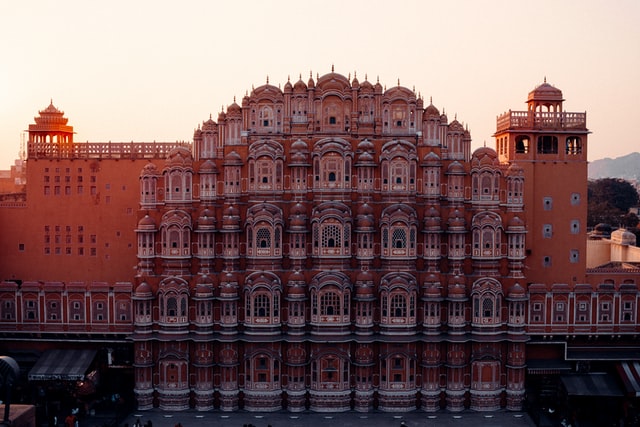 Jaipur
Jaipur is the capital city of Rajasthan, and it is also known as 'Pink City' a name it has earned because of the pink colored buildings across the city. From rickshaws to camels, open spaces to spectacular architecture, Jaipur is the star of all touristy places in India. It is also a favorite of international travelers in India. The Amber Fort is its star attraction with grandeur of past reflecting in rock solid palaces and fort. Jaipur is also a food paradise, and is dotted with number of restaurants serving the delectable Rajasthani cuisines.
When in Jaipur, you must relish the Pyaaz Kachori, Ghewar, and Dal Baati Churma, which are most popular and favorite of the masses. Jaipur is also known for JLF, Jaipur Literary Festival, which is the biggest Literary festival of India. Jaipur also has a very strategic location which makes it the stepping point of all the excursions into Rajasthan.
The markets of Jaipur are regarded as one of the most vibrant and colorful markets of Asia, where you will get Jewelry, textiles, and handicraft. Some of the other Top attractions in Rajasthan include Nahargarh Fort, Jaigarh Fort, Hawa Mahal, Jal Mahal, Jantar Mantar, Pink City Bazaar, and Birla Temple.
Udaipur
Udaipur is also known as City of Lakes, but it is not just about the plenty of lakes you can find in the city. It is also studded with palaces, temples and mansions. Udaipur is also called as the White City, because of the various Rajput Palaces standing in the city which are built of white marble. The city of Udaipur was established in the year of 1559 by Maharana Udai Singh II. It was built to serve as the new capital of Mewar Kingdom. The boat rides, colourful bazaars, artful culture will be the highlights of your stay in Udaipur.
Udaipur is the perfect spot if you plan on staying in a heritage hotel and breathe history and architecture from the comfort of your room. Interestingly the city of Udaipur is also popular for trekking and paragliding. Some of the top attractions of the city include City Palace, Lake Pichola, Lake Palace, Bagore Ki Haveli, Saheliyonki Bari, Jagdish Temple, Sajjan Garh, and Jagmandir Island.
If you are travelling with family or if you are travelling as a couple, then Udaipur is an ideal destination for you. If you want to make the best time while being in Udaipur then try booking the lake side hotels or resorts. Best time to visit Udaipur is in the winters.
Jodhpur
Jodhpur is also known as Blue City or Sun City. This beautiful city is located on the verge of Thar Desert. Geographically Jodhpur is the second largest city in Rajasthan, and was the former capital of the Marwar region. Jodhpur is home to many palaces, museums, temples, and is distinctively known for the views of blue rooftops from the city palace. The winding medieval streets of Jodhpur have never failed taking travelers back in time. Jodhpur is also popular for being home to some of the delectable food items.
When Visiting Jodhpur you must relish their Mirchi Bada, Pyaaj Kachori, and Mawa Kachori. Jodhpur also holds a significant importance in the cultural landscape. Every year it hosts Marwar Festival, and the renowned Rajasthan International Folk Festival. Interestingly there is a temple in Jodhpur where a Royal Enfield Motor Bike is worshiped. This temple has now become a popular tourist spot.
Jodhpur has been seen in many movies, and the most famed one being, The Dark Knight Rises. Some of the top attractions in Jodhpur include Mandore Gardens, Jaswant Thada, Toorji Ka Jhalra, Chamundaji Temple, Mehrangarh Fort, Umaid Bhawan Palace, and Clock Tower.
Jaisalmer
Jaisalmer is also known as Golden City, because of the location of this beautiful place which stands at the heart of Thar Desert. Jaisalmer was built as a walled fort, and presently the fort encloses many residential palaces. In Jaisalmer you can expect an unforgettable ride of camel trains and lots of distinct embroidery for shopping. The desert jeep safaris of Jaisalmer are very popular and is a must have experience. Most of the structures and buildings in the city of Jaisalmer are built of golden colored sandstone.
Interestingly this city is the last of the biggest town located closely to the India Pakistan Border in the region, which also gives it a geographically strategic importance. Some of the top attractions of Jaisalmer include Jaisalmer Fort, Bada Bagh, Patwon Ki Haweli, Thar Heritage Museum, Gadisar Lake, and Jain temples. The Jaisalmer Fort also has the rep of being listed as the UNESCO World heritage site.
When visiting Jaisalmer you must drop by the colorful handicraft markets of the city. Camping in the deserts is one of the experiences here that you shouldn't miss. These camps also include the regional music and dance performances, along with great food.
Bikaner
Bikaner is popularly known for its forts and food. If you have lived in India then you must have heard about the Sweets and snacks of Bikaner. Kesar Kulfi is one of them, so is Bhujias and Thandais. Bikaner is often regarded as an alternative to Jaisalmer, and travelers flock here to experience the desert safaris. The history of Bikaner dates back to 1486 AD, when a young prince challenged by his father, establishwed his own kingdom by driving settlements in abandoned villages.
If you want to experience the old world charm of Rajasthan, then Bikaner is where you should be headed to. Bikaner is also popularly known as the camel country, and is home to some of the best breeds of camels. We recommend this destination as a must visit for foodies, and also if you want to stay in a heritage hotel.
Some of the top attractions of Bikaner include Junagarh Fort, Lalgarh Palace, Camel Research Centre, Laxminath Temple, Jain temple, and Bhandasar Temple. When visiting Bikaner, you can also head on to the Gajner Wildlife Sanctuary for some wildlife spotting.
Chittorgarh
Chittorgarh is also known as Chittor, and was the birthplace of Maharana Pratap and Meera Bai. It has the largest fort in India which is spread across land of 700 acres. Back in history Chittorgarh was the capital of Mewar region. Chittorgarh is also listed as a UNESCO World heritage site. Many remember Chittorgarh for the invasions of Alauddin Khilji, and the Jauhar of Queen Padmini. The best time to visit this beautiful city is during the Jauhar Mela which is held to commemorate the sacrifice of Queen Padmini.
The place is remembered for the integrity and chivalry of Rajputs. The city is located by the Berach River. It is known for its distinct architecture, and has many palaces, gardens, and temples. Some of the top attractions in Chittorgarh include Chittorgarh Fort, Rana Kumbha Palace, Fateh Prakash Palace, Meera temple, Rani Padmini Palace, Victory Tower, and Chattris.
For nature lovers, Chittorgarh is a paradise city whicvh houses two national parks, named Bassi Wildlife Sanctuary and Sita Mata Wildlife Sanctuary. The best time to visit Chittorgarh is between October to February during winters.
Bundi
The city of Bundi is quite popular for its step wells and there are nearly 60 steep well structures only in Bundi. When you will explore this city, you will find temple at every turn. The city of Bundi is dotted with numerous lakes and colourful markets. For nature lovers there is a good news that it also offers opportunity for wildlife safari at Ramgarh Vishdhari Sanctuary. It is believed that this city was established during 14th century and its original name was Bunda Ka Nal, which means narrow ways.
Some of the most renowned literary mavens have mentioned this city in their works, like Rabindranath Tagore in False Fort and Rudyard Kipling in Kim. The region is also popular for the much famed Bundi Paintings, a unique style of Rajasthani paintings with origins dating back to 17th century. The miniature paintings in the Chitra Mahal are some of the best things you must see in this city.
Some of the top attractions in the city include Chitrasala, Bundi Palace, Jait Sagar, Kshar Bagh, Ranijiki Baori, Sukh Mahal, Shikar Burj, Taragarh, and Nagar Sagar Kund. Bundi might be an offbeat destination, but will amaze you with its beauty.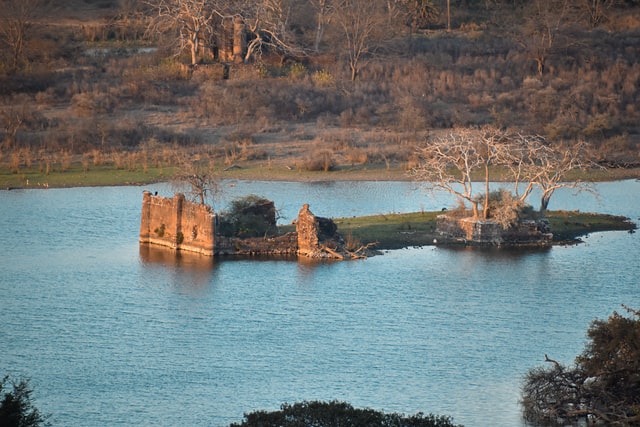 Sawai Madhopur
Sawai Madhopur is home to two fascinating attractions of Rajasthan, the Ranthambhore Fort and the Ranthambhore national park. The former is a UNESCO world heritage site, while the latter is one of the top national parks in the world to spot tigers in wilderness. The Jungle Safaris are quite popular in here, and you might also spot Leopards, Hyenas, and sloth bears also. Some of the other top attractions of Sawai Madhopur include Chamatkar temple, Chauth Mata temple, and Khandar Fort.
There is an interesting thing about the Chamatkar Temple that whatever devotees ask in front of god, is fulfilled. Sawai Madhopur is an ideal destination with a blend of adventure and a little bit of spirituality. Sawai Madhopur is an ideal destination if you are traveling with your family, or if you are traveling with a group of friends.
Sawai Madhopur is surrounded by the Aravalli and Vindhya mountain ranges, and it has two rivers flowing by its side, named Banas River and Parbati River, which makes it scenic and ideal spot for photography lovers.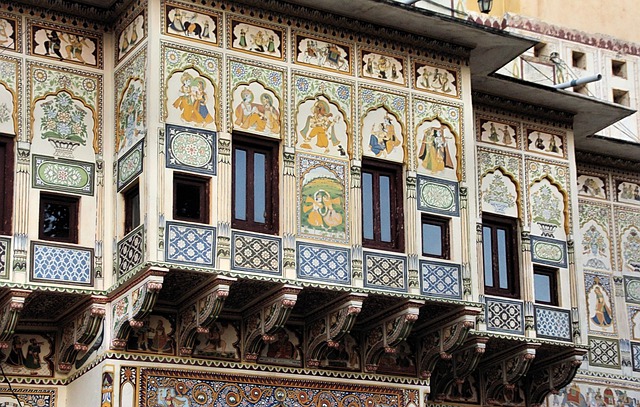 Shekhawati
Shekhawati is one of the lesser known regions of Rajasthan, which is known for its royal mansions. It is often referred to as world's largest open air art gallery. The peculiar thing about these mansions is the finely painted frescoes on their walls. They aren't just any ordinary frescoes, but work of fine arts, and we bet you haven't seen like them before. In fact the city of Shekhawati has the highest concentration of Frescoes in the entire world. The owners of these mansions were once wealthy merchants.
The main source of wealth of these Marwari merchants was because of the strategic location of the city, which is between the ports of Arabian Sea and the Ganges Valley. The city was established by Maha Rao Shekha Ji, towards the end of 15th century. Some of the other top attractions in Shekhawati include Dundlod Fort, Lachhmangarh Fort, Khetri Mahal, Badalgarh Fort, Mandawa, and Harsh Nath Temple.
The city got its prominence on the international travel map in 1982 when an essay with pictures of the city, titled 'The Painted Walls of Shekhawati' was published. When visiting Shekhawati you must also indulge in the folk music around here.
Mount Abu
Mount Abu is the only Hill station of Rajasthan, and is located in the Aravali Range of mountains. The city has year long pleasant weather despite of the desert dominated terrain of Rajasthan. The city is dotted with forts and lakes, but at the same time also has lush green open spaces perfect for a family picnic. The most popular spot in here is Nakki Lake where you can also hit a paddle boat, and enjoy the true pleasures of holidaying in a hill station.
Some of the other top attractions of Mount Abu include Dilwara Temples, Guru Shikhar, Achalgarh, Sunset Point, Gaumukh Temple, and Brahma Kumari Spiritual University. When visiting the Nakki Lake of Moubt Abu you must also indulge in some local delicacies at the eateries and restaurants around the lake.
Dilwara Temple of Mount Abu is its most popular attraction. In fact it is regarded more beautiful than the Taj Mahal when it comes to craftsmanship. If you are a nature lover you must drop by the Mount Abu Forest Sanctuary for flora, fauna, and wildlife.