A small western European coast country that has once ruled the places of world, now places of Portugal rule the hearts of travellers. A true charmer with affordable travel, golden beaches, aromatic wines, tantalizing food, chapters of history, marvel of architectures, cobblestoned villages, cosmopolitan cities and this can go on, but what we want is you to witness the beauty of Portugal by giving a visit. You will probably make new friends in here, considering the warm hearted and friendly people of Portugal. So here we are to help you visiting the best cities in Portugal, and ensure you have a great time.
Lisbon –It is the capital of Portugal and second oldest European city. A city that is easy on pockets, but you got to mind those cobblestoned streets. You simply can't miss the localities, Castelo de São Jorge and Alfama. To swipe your uncertainty there are two UNESCO World heritage sites, Mosteiro dos Jerónimos and Torre de Belém. River Tagus gives a perfect backdrop for the city and you will love those tree lined square. Trams (Especially the No. 28), Gothic cathedrals, coffee bars add more magic to the city. Book lovers must visit Chiado that has the oldest bookstore of the World, while party animals must sneak in to Bairro Alto.
Sintra – The crown of Sintra Mountains and a place perfected by nature for trekking, so you find palaces and fortresses on your way. It has been a summer retreat of Portuguese Royal family. When here you can't miss the Pena's Palace, Castle of the Moors, and Monserrate Palace..The turrets, and castles amidst the lush green forests and gardens, will be the most picturesque thing you will see around in Portugal.
Porto – It is the second largest city of Portugal, with centuries old walls, medieval backdrop, colourful houses, and those fancy tiles. The arches ofPlaca da Ribeira, and Palácio de Bolsa will make your day. The old world charm still lives in here, and those cobblestoned streets give never ending blissful walks. Visit to Porto is incomplete without São Bento that is a masterpiece in mosaic tiles. The gardens, palaces, cathedrals, and the Porto Wine that comes from Douro Valley are worth it. The live music in cafes and restros, and the buzzing of street vendors in here is beautiful as alike.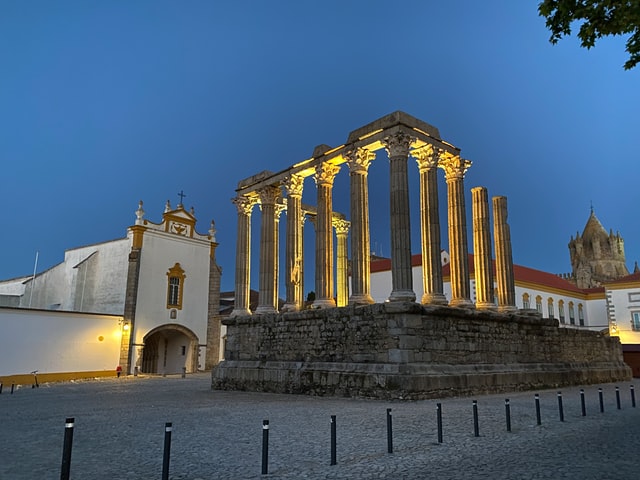 Evora – This historic town is a UNESCO world heritage site, if you doubt its reputation. The city boasts of white washed houses, Twomillennium Old Templo Romano, and Capela da Ossos made of skeletons. The city claims to have 4000 historic structures, intact roman walls and temples. The Cathedral of Evora a Gothic masterpiece is another sight you'll love. The hospitality of people in here will sweep you away.
Aveiro – A true maritime city set long the lagoon of Ria de Aveiro. This place is perfect for quays, canals, and boats, the reason it's also dubbed as Venice of Portugal.In this city, you must watch religious art in museums and Art Noveau buildings, or head for little fun on sandy beaches. The Aveiro Cathedral, the São Gonçalinho Chapel and the Convento de Jesus are other architectural marvels and display of art works.
Coimbra – This city is based on the banks of river Mondego, and quite popular for its universities that have made way to UNESCO World Heritage Site list. Other must see sights are 18th-century bell tower, baroque library and Romanesque cathedral. The library of University of Coimbra, Baroque-styled BibliotecaJoanina, is famed for its beautiful make. Fado music and celebrating culture are other highlights of the city. The bonatical gardens, museums will complement your trip.
Obidos – A picturesque fortified town on a hilltop that has history of being gifted to a queen. This might want you to least take your other half in here. The white houses, fortified walls, touristy shops, are all set up well in favour of this city. You will love the Ginja de Óbidos,cherry liquor served in chocolate cups. A great day trip from Lisbon, though we insist that you stay.
Braga – Was the European Youth capital in 2012 and is one of the oldest City of Portugal. The cafes, shops, restaurants are filled with youthful energy and lots of life. The city also has a religious side with oldest cathedral of country Bom Jesus do Monte. The mansions, churches, palaces, gardens, are all grand in here. A perfect evening of Braga is having coffee under one of those arcades.
Tavira – It is one of the most charming Portuguese cobblestonedtown. Set on the sides of Rio Gilão, this town is connected by worth walking Roman footbridge. The castle walls around are another sights you will admire and feel like back in time of fortifications. The church Igreja de Santa do Castelo of knights, museum NúcleoIslâmico, and beach Ilha de Tavira will be your highlights.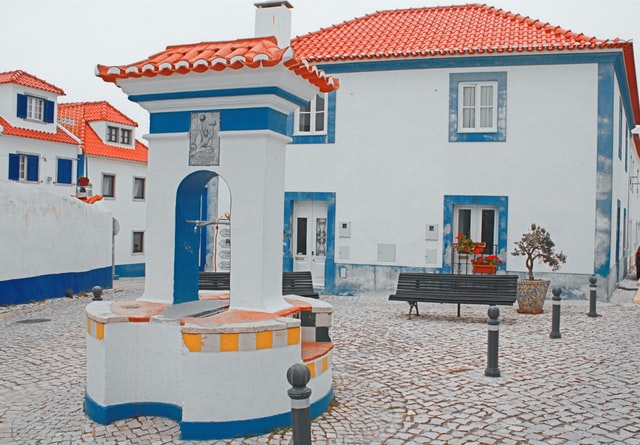 Ericeira – It's a fishing village of Portugal that is quite popular for Surfing. The cliffs along the coastline are some place to be at. Must we mention that you are also going to love the delicious seafood served at restaurants in here. The whitewashed buildings and houses of this place are perfect picturesque backdrops. It is pretty close to the capital city, making a good getaway.
Better to see something once than hearing about it thousand times!