It is the point where east meets west. Having held historic importance for being a trade route between Asia and Europe, Turkey has grown to be diversely rich nation. With all of this, nature too is at its side. From mountains to beaches, from waterfalls to hot springs, it has that too. Your evening will be made, once you will sit down with warm hearted Turkish men with cups of Turkish tea. The archaeological remains still remind the days of Turkish glory. From historic towns to Modern cities, Turkey refuses to stay behind in anything a traveller would expect. It is a place you must visit, if you want to see cultural influences and diversity at best. Here we are with best Turkish places to visit.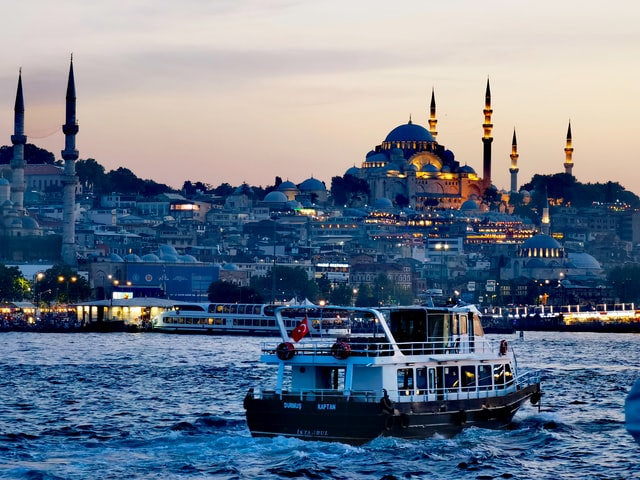 Istanbul – This city is privileged to be both Asian and European, divided by Bosphorus Strait. It has been historic capital of Byzantine and Ottoman Empire. You will love the Topkapi Palace, Mosaics of Hagia Sophia, and the Basilica Cistern. The all famous Grand Bazaar will make you carry some bags. Bosphorus is the place to make cruises happen. A prayer at Blue Mosque, and seeing cityscape from Galata tower will make your day. Local food in here includes kebaps, freshly caught fish, rakı (aniseed brandy), and locally produced wine.
Ankara – The Turkish Capital is the seat of country's government. The skyline is dominated by Govt. Buildings, modern outlets, universities and embassies. Top attraction includes Anıtkabir a Mausoleum of Turkish founder. Then there is Ankara Citadel in the old city. The cobblestoned streets and the ottoman houses will take you back in time. Then there is Kizilay Square popular for hang out points like cafes. Other must visits are Ataturk Memorial, and Museum of Anatolian Civilizations.
Antalya – Being a part of Turkish Riviera, this city boasts of blue waters and explicit beauty. This is best Turkish place to explore the underwater world. This is your place for deep sea diving. Top attractions include, Old Quarter of Kaleici, Lara Beach and Konyaalti Beach. Antalya is also a base for Roman ruins of Perge and Side that are a day trip away. Clock Tower of the city is also worth the sight. A Turkish Itinerary is incomplete without this place.
Bodrum – This city of Turkish Riviera is popular amongst beach lovers. The white washed houses, Mediterranean waters, amazing sea food, works as perfect backdrop for holidays. The beaches, the resorts, and luxury hotels have made it even better for travellers. Top attractions in here include Castle of St. Peter, Bodrum Theatre, Myndos Gate. History buffs can hang around the museum of Underwater Archaeology. Also this city was once a wonder of ancient world.
Cappadocia – This is the place you have seen many times on television, magazines, etc. with sky and hot air balloons. These best views are mostly from a UNESCO World heritage site Goreme Open Air Museum. The place is also popular for its Kaymakli andDerinkuyu Underground City. You can also indulge in hiking and see the Uçhisar Castle which is more of a caves rather than spacey halls. Ylou will also want to spend your days in a cave hotel.
Ephesus – This city is must visit if you ever have loved history. It was a Greek cum Roman city whose ruins to this date are worth the sights and an UNESCO world heritage site. Top attractions in here include Temple of Artemis, Temple of Hadrian, Basilica of St. John and Ephesus Museum. The Gladiator Room will still give you thrills. Another must visit is Isa Bey Mosque, that you will love. Then there is Celsus Library that remains favourite of Instagrammers.
Pamukkale – Also known as the Cotton Castle is one natural marvel you can't miss when in Turkey. This is a white washed terrain, is flown over with hot springs that are mineral rich. Over the time calcium has deposited over forming snow like white terrain.It is the open air natural spa of Turkey and has been used over centuries like that. You will also want to visit the ancient ruins of Hierapolis that is again popular for medicinal pools. Pamukkale Castle is another must see.
Trabzon – It has Black sea to its top and Pontic Mountain passing through it. You will get the feel of being in a hill station. The top attraction of this place is the Hanging Monastery of Sumela, and we bet it is worth all hype. Far from Istanbul, here too is Hagia Sophia but of Trabzon which was once a church and now converted into a Mosque. Long Lake of the city will surely delight you. Then you must visit the Trabzon Ataturk Kosku museum.
Side – This sea side town has both historic ruins and modern resorts, making it popular amongst travellers. The place has a great gastronomy rather more fresh, buzzing nightlife, and days full of sightseeing. The Hellenistic and Roman ruins include, a large amphitheatre that had a capacity of 15,000, and white marble columns of the Hellenistic Temple of Athena by the harbour. Then there is a roman bath complex you will enjoy soaking into.
Konya – This is one of the oldest cities in world. It is popular for its Seljuk architecture. In here Alaeddin Mosque and ruins of Seljuk Palace are worth catching sights with. This place is known for Persian culture and Sufi mysticism. The place has been home and inspiration to famous Sufi poets. Other must see are Mevlana Museum contemplated by beautiful garden, Tile Museum and Museum of Wooden and Stone Carving.